SEEKING ARRANGEMENT / SEEKING REVIEW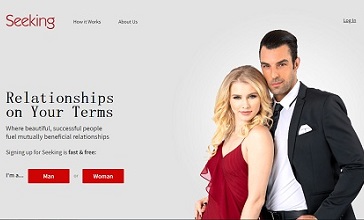 SeekingArrangement(Seeking) is one of the most popular sites based on 20 Million+ members, and the ratio currently stands at 4 beautiful women : 1 wealthy men . It is not a dating site per say because the sugar babies get to enjoy the favors of being spoiled while the sugar daddies enjoy good company with a beautiful woman. The platform is also ideal for wealthy older women looking for the company of young and handsome men.
MEMBERSHIP
Standard membership is free for all the members. Here you get to sign in and see an overview of the features site. In standard, there is limited use of the site, and you won't benefit much from the site.
To enjoy the benefits of the website, you have to sign up for the premium membership with a flexible payment using a credit card, money order or money gram. The membership for one month is $69.95, for three months is $179.85, and for six months you pay $299.70. A longer subscription will save you cost because you pay less. There is also the diamond membership where you pay $209.95 for one month.
SIGNUP AND PROFILE
Join SeekingArrangement.com is easy, and the process takes an average of five minutes. To join you need an e-mail address to get verified. After joining, you will be able to see the general features of the site before you determine if you want to go to the next level. The site provides you a platform to tell people about yourself, and this also includes a place where you can upload your photos. The profile has settings where you can restrict your profile by limiting it to the amount of people that can view your photos and profile. The profile also provides filters where you can be able to search different users based on the country and physical characteristics that you want.
IS IT WORTHY TRYING
Yes. You should give SeekingArrangement.com a chance keeping in mind that there are higher chances of getting a date compared to other similar platforms. The rates are reasonable, and you can get the standard membership for free before you can consider joining the premium membership. This is also one of the few sites that also allows a platform for sugar mommas to also enjoy the services.
High Change of Getting a Date: The site might be a little competitive for sugar babies looking for a date, but it has a higher chance for sugar daddies and sugar mommies looking for a date. This is not to say that the sugar babies will find it hard getting a date, though. With a good profile and good photos, it is very easy to get a date here keeping in mind that this is one of the leading sugar daddy sites.
Friendly Design: This is one of the features that many people look for in a sugar daddy platform. The site has been made in such a way that it allows the users to use the website with ease. A quick browse of the site will allow you to get everything you are looking for with the use of filters and clear navigation.
Privacy Protect: If you are worried about your privacy, then this is the best site to choose. SeekingArrangement.com helps in maintaining the privacy of users, and this is why you can easily have settings in your profile to protect yourself. The website does not also share your personal information with third parties.
Blog: The SeekingArrangement.com platform also has a blog where you can read tips and news about the site. This is to keep the users on the latest trends and also in giving them advice.